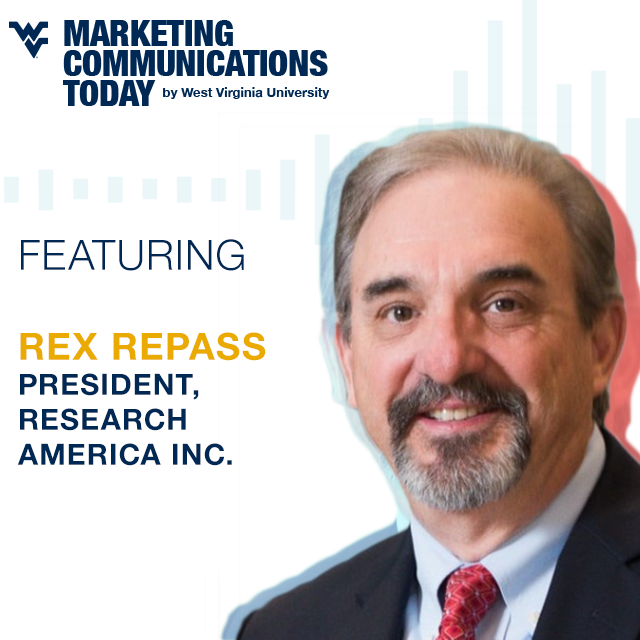 Rex Repass, a native West Virginian, is President of Research America Inc. In this podcast, Rex will tell us about his life-long interest in the effects of media and marketing on consumer decision making – from the cars they drive to the candidates they support. He has an interesting story to share from his first market research venture in the early 1980s to now leading a Top 50 research firm in the U.S.
About Matthew's guest:
Rex Repass is President of Research America Inc. The company has 250 employees in the U.S., with locations in Philadelphia, metro New York, Cincinnati, Detroit, Orlando, and Sacramento. The Research America teams have designed and led market research and consumer insights projects for some of the leading corporations in the world including Walgreens, Pfizer, Honda, Facebook, and Hilton Hotels. In addition, over the years Rex and his teams have conducted public opinion and user experience research for more than 40 newspapers in the U.S. and Canada, and the Reuters News Agency.
Rex is a life-long entrepreneur. He has been an owner in three market research firms during his career. Companies he has led have been named to Inc. magazine's annual list of the fastest-growing, privately-held companies in America multiple times. In 2020, Research America was also named one of the Top 50 market research firms in the U.S. based on annual revenue by the GreenBook Research Industry Trends Report (GRIT).
A native of Charleston, West Virginia Rex remains close to his roots. For many years he has directed The West Virginia Poll™ sponsored by the MetroNews Radio Network. Rex received an undergraduate degree from Marshall University and in 2017 was named a Distinguished Alumnus of Marshall's College of Arts and Media. He is also a former Marshall athlete and was a member of Coach Jack Lengyel's Young Thundering Herd football team in the early 1970s. In 1977, Rex received a Master of Science degree in Communications from the University of Tennessee, with an emphasis in public opinion and advertising research methods. He currently serves as Vice-Chair of UT's College of Communications & Information Sciences Board of Visitors.
Rex is based in Research America's Cincinnati office and he and his wife Theresa are the parents of four adult daughters.
---
WVU Marketing Communications Today is hosted by Matthew Cummings from West Virginia University which is a program on the Funnel Radio Channel.