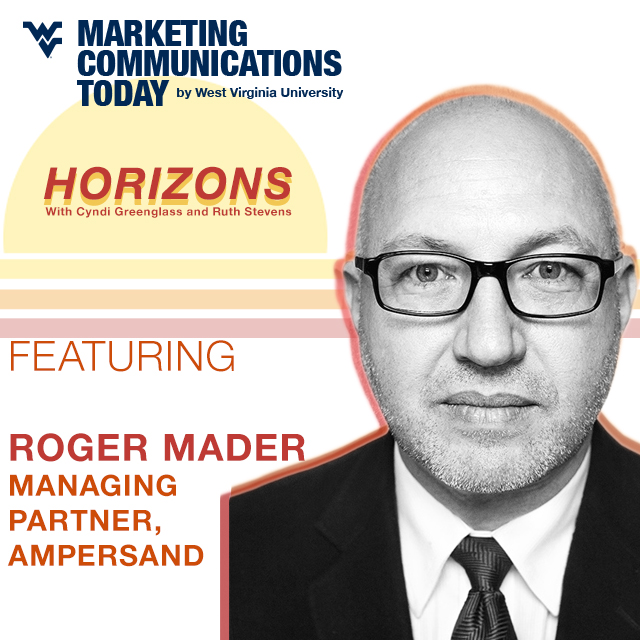 Design thinking has been around a while, and it sounds alluring, but there's still some confusion about what it means to marketers. Roger Mader sets us straight in this podcast, explaining the skills and tools of design thinking that apply to marketing practice, and how it can be used to improve marketing results. In short, he describes a process for predicting your customers' future needs and interests and serving them better than the competition. Join Roger, Managing Partner at Ampersand and professor at the School of Visual Arts in New York, to hear where design thinking can take marketers, on the sub-series, Marketing Horizons.
About our Guest:
Roger Mader is on a mission to "make better"—to equip leaders and entrepreneurs, experts and students to change the world. Declare purpose. Make a promise. Act on principle. Measure performance. Learn. Grow. Roger serves as the Managing Partner of Ampersand, a global team of partners who help big companies act small, and small companies get big. Ampersand uses design practices honed in the field, in collaboration with teams to conceive, test, iterate and launch new offerings and experiences. He serves on the graduate program faculty of the School of Visual Arts in Manhattan. His course on Strategic Innovation introduces teams of students to Ampersand's 4D method to design breakthroughs for corporate sponsors, including Accenture, Cap Gemini, Capital One, Chase, Citi, Deloitte, EY, Lippincott, McKinsey, RGA and SYP. His writing includes Purposeful Enterprise, a thesis on the power of purpose to guide strategy, attract demand and compel people on a shared mission.
---
WVU Marketing Communications Today: Horizons is presented by the West Virginia University Reed College of Media, which offers renowned online master's degree programs in Marketing Communications.