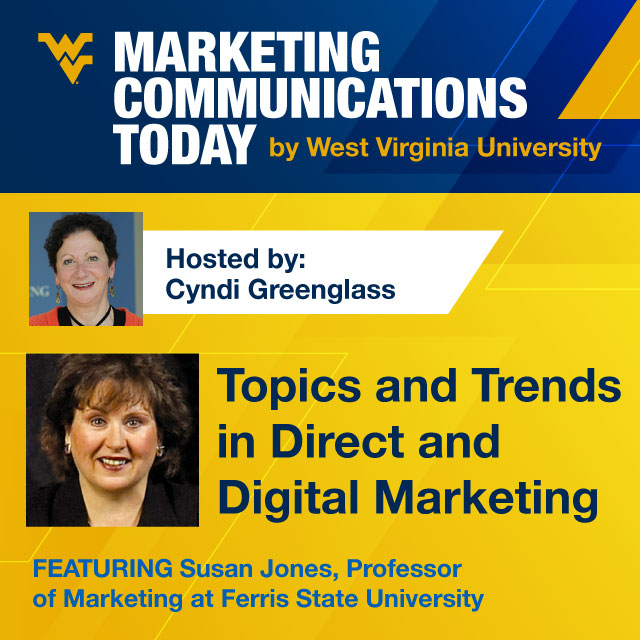 The host is Cyndi Greenglass and the guest is author, professor, and consultant Susan Jones.
There is a continued move toward the integration of direct and digital marketing and the balance of online and offline media.  In this episode, we'll talk about trends in database marketing, and how a creative person can uniquely contribute to the use of insights from the database I also want to touch on the current climate regarding consumer privacy concerns. 
Talking points include:
Many in our industry feel that Direct Marketing is no longer an effective description of the practice of addressable and measurable communications. In fact, I believe that you are an advocate of using "Direct and Digital Marketing".  Tell me how this had developed and why you feel that this is a better way to describe the industry today.
Are traditional media like print, catalogs, and TV are on their way out?
Do you believe in the reality of "Omnichannel" or is it still a future aspiration for us marketers?
How do your creative skills help you to use information from databases?
Can small and medium-sized companies afford to develop and use helpful databases, or is that just for the bigger firms?
In Europe, the GDPR mandates went into effect.  Do you see more privacy legislation and regulation coming up in the US as well?
With so many firms developing content marketing programs, how can a marketer make sure that their information stands out?
About our Guest, Susan Jones:
Susan Jones is a tenured, full professor of marketing at Ferris State University in Big Rapids, Michigan, and the principal of Susan K. Jones & Associates. Jones teaches direct marketing, digital marketing, advertising and business-to-business classes at Ferris State. Her practice focuses on corporate training and seminars in direct and interactive marketing, as well as marketing planning, product development and copywriting. Susan has a literal worldwide following with students in United States, as well as South and Central America, Australia, Canada, Mexico, and Europe.
Jones has authored or co-authored more than 25 books, has been honored by the Direct Marketing Educational Foundation, the Chicago Association of Direct Marketing, the West Michigan American Marketing Association, the John Caples International Awards, Ferris State University and Northwestern University with prestigious awards both as an educator and as a practitioner.
Susan is also a fellow Adjunct Instructor at WVU in the Master of Science in Integrated Marketing Communications and has been selected by students of the University for the prestigious Educator of the Year award.
___________________________________________
WVU Marketing Communications Today is hosted by Cyndi Greenglass from West Virginia University which is a program on the Funnel Radio Channel.