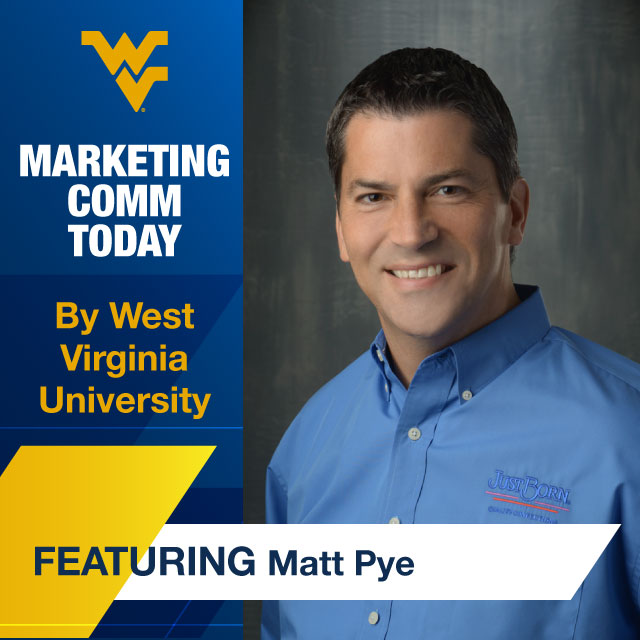 Happy Easter everyone! It's just not Easter without PEEPS®! The PEEPS® Brand has been around since 1953 and is a must-have for the Easter basket. The yellow chick is the icon that everyone knows however, the classic pastel-colored marshmallows covered in sugar are certainly polarizing. Consumers either love them or hate them. If they love PEEPS®, don't mess with them. If they hate PEEPS®, there is no way they would ever eat any PEEPS® product. How does a brand stay true to its heritage while evolving to appeal to a larger audience? In this podcast, we will learn how brands can grow through innovation with their core consumers while attracting new users to the franchise.
About Nathan's guest, Matthew J. Pye, Senior Vice President, Sales & Marketing, Just Born Quality Confections
Matthew J. Pye is the Senior Vice President of Sales & Marketing at Just Born Quality Confections, a 3rd generation family-owned candy company that manufactures PEEPS®, MIKE AND IKE®, HOT TAMALES® and GOLDENBERG'S® PEANUT CHEWS® candy brands.
Matt has over 25 years of experience in marketing and sales. He started his career at Unilever as a successful sales representative selling the DOVE®, WISK®, SNUGGLE®, and LEVER 2000® brands. Several years later, he got his start in the candy industry at Cadbury working in marketing on TRIDENT® chewing gum. Matt moved on to a smaller company and entrepreneurial opportunity with Fleer Confections as Marketing Manager on all brands, which included DUBBLE BUBBLE® and RAZZLES® bubble gum brands.
Matt joined Just Born in 1998 as the Group Product Manager on the MIKE AND IKE® and HOT TAMALES® candy brands. He launched MIKE AND IKE® ZOURS® in 1999, the company's first sour candy offering. Matt eventually was promoted to Marketing Director with responsibility for all of the company's brands. In 2004, Matt received the first-ever Company Visionary Award for his development of the company's licensing program. In 2006, he moved into sales as a National Account Director relocating to Charlotte, NC to run the Southeast territory and manage key accounts including Walmart, Sam's Club, Dollar Tree, Dollar General and Family Dollar. After a successful 4 year stint in sales, Matt was promoted to Vice President of Marketing in 2010. He led the turnaround of GOLDENBERG'S® PEANUT CHEWS® which the company had purchased in 2003. He spearheaded the successful breakup campaign of MIKE AND IKE® and executed the PEEPS® Chocolate Initiative with the launch of several new products. In 2012, Matt was promoted to Vice President of Corporate Affairs with the responsibility for Trade Relations, Community Relations, Government Relations and Corporate Communications. He was then promoted to his current position as Senior VP Sales & Marketing in 2017 managing sales, marketing, corporate affairs and retail.
Matt earned his BS in Marketing from Boston College and has an M.B.A. from Rutgers University. He is an Eagle Scout and currently serves on the Executive Board of the Minsi Trails Council of the Boy Scouts of America. He also serves on the Executive Board of the United Way of the Greater Lehigh Valley. Matt is married and has 2 daughters in college.
---
WVU Marketing Communications Today is hosted by Nathan Pierratt from West Virginia University which is a program on the Funnel Radio Channel.