Marketing Horizons, a series in the WVU Marketing Communications Today podcast, is forward-thinking, looking ahead, through the front windshield and beyond, into the marketing future. Marketing Legends, another series in the WVU Marketing Communications Today podcast, features marketing thinkers, innovators, practitioners and founders — legends of the marketing world — who will talk about their careers and share their wisdom with the marketers of today. Hosted by Cyndi Greenglass and Ruth Stevens, these podcast series are dedicated to looking ahead to the new ideas, technologies, tools and strategies that are emerging to help marketers navigate over the marketing horizon.
Episodes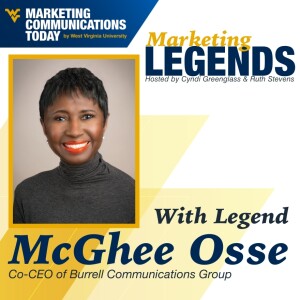 Thursday Nov 16, 2023
Thursday Nov 16, 2023
McGhee Osse is a trailblazer in multicultural marketing communications. As the Co-CEO of Burrell Communications Group, one of the most highly regarded multicultural advertising agencies in the country, she has both witnessed and influenced the evolution of diversity advertising in the U.S.—and the world. In our conversation, McGhee shares how under-represented black and Hispanic agencies are in the U.S., and yet the spending power of these consumers is massive. While black advertising had its moment after George Floyd, Osse cautions us that "Black people are not dark-skinned white people." To communicate effectively, you need to understand the demographics and consumption patterns of minority groups and learn to speak in a way that is both engaging and respectful. This episode will open your mind to the importance, and the essential practice, of multicultural advertising. Did you know that less than 2% of ad revenue is devoted to black consumers? Take a listen and find out why.
About our Guest:
McGhee Osse McGhee Osse is a nationally recognized marketing and advertising professional. She is Co-CEO of Burrell Communications Group, one of the leading and most highly regarded multi-cultural advertising agencies in the country with annual billings exceeding $200 million and a roster of clients that lead in their respective categories, such as Procter & Gamble, McDonald's, Coca-Cola, Kellogg's, Walmart, Toyota and Comcast.
McGhee became an equity partner in Burrell Communications in 1996. In 2004 she and a long-time colleague purchased majority ownership of the company from its founder, Tom Burrell. With P&L responsibility and expertise in building brands, she has strategically grown revenue through value-based service and a consumer-focused approach.
Innovations to her credit include starting the agency's Yurban marketing initiative, which targets youth and young adults; the introduction and development of the agency's "account planning" practice; and spearheading the agency's formal entry into the digital and interactive marketing arena. And most recently, she launched the agency's political consultancy and practice.
---
WVU Marketing Communications Today: Marketing Legends is presented by the West Virginia University Reed College of Media, which offers renowned online master's degree programs in Marketing Communications.