Marketing Horizons, a sub-series in the WVU Marketing Communications Today podcast, is forward-thinking, looking ahead, through the front windshield and beyond, into the marketing future. Hosted by Cyndi Greenglass and Ruth Stevens, Horizons is a podcast dedicated to looking ahead to the new ideas, technologies, tools and strategies that are emerging to help marketers navigate over the marketing horizon.
Episodes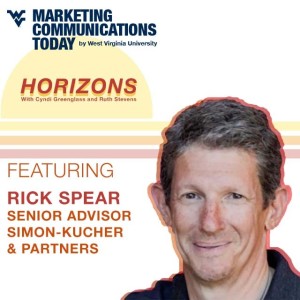 Thursday Sep 08, 2022
Thursday Sep 08, 2022
In the marketing profession, we have depended on the Four Ps as foundational to business success. But is that still relevant today? Tune in and learn why Rick Spear says ignoring the Four Ps is like ignoring the alphabet. In this episode, we discuss how pricing, above other strategies, has become the secret weapon for marketers in managing through these uncertain waters of inflation, recession, and constant change. But to wing it or make guesses benefits no one. Pricing is the top strategy to gain—or regain—value. Find out why Rick says that the critical question we need to keep asking is: "What will it take to earn 1 point of market share?" HINT: A few key insights can trump terabytes of data.
About our Guest:
Rick Spear is a senior executive in the capital markets industry who has spent 50% of his career helping to run firms and 50% as a strategic advisor/consultant to CEOs, boards and heads of businesses. As head of strategy, he has helped to architect and manages multi-year growth plans, targeting and growing revenue and profit by sizing markets and performing competitive analysis He has worked with every functional head across multiple companies, including the CEO, COO, CFO, Chief Product Officer, Chief Technology Officer, Head of Middle/Back Office, General Counsel and Chief Risk Officer. His education includes Stanford University and Harvard. He is currently, Senior Advisor at Simon-Kucher & Partners, a global strategy consulting firm focused on growth strategy, marketing, pricing, and sales.
---
WVU Marketing Communications Today: Horizons is presented by the West Virginia University Reed College of Media, which offers renowned online master's degree programs in Marketing Communications.