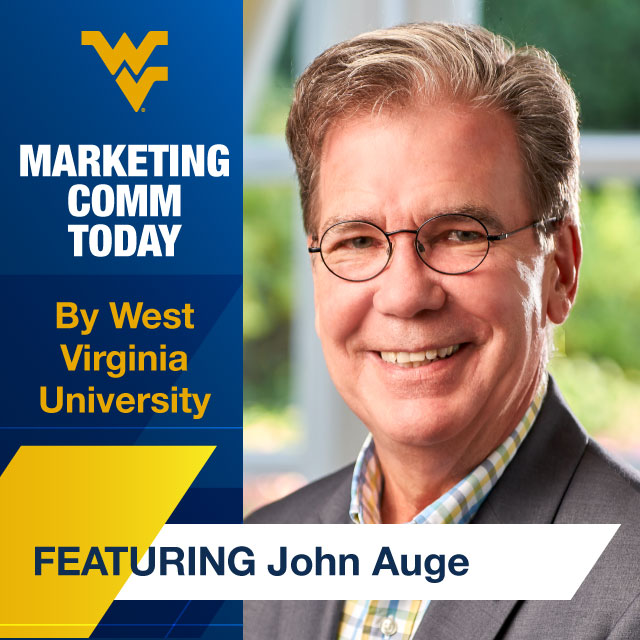 WVU Marketing Communications Today's guest is John Auge, creative director and co-owner of Auge+Gray+Drake Collective Works. 
He and host, Michael Lynch, dive into the creative industry, discussing the changes to the profession, the creative approach, as well as the exciting opportunities for people in the industry. Auge will share his insights and experiences on key projects he has worked on including the Dulles and Reagan National Airport branding, WVU logotype brand development and the West Virginia 150th Celebration event graphic.
About our guest:
For over 40 years, John has counseled thousands of senior executives, top government officials as well as both large and small business owners throughout the country.
An innovative designer and skillful artist, John specializes in corporate communications, branding, and identity. John has worked with high-profile clients such as The White House, The Washington Post, Texaco, WV Chamber of Commerce, Appalachian Power, various associations, banks, and hospitals. He also developed materials for three West Virginia gubernatorial inaugurations and created the West Virginia's 150th Birthday event graphics.
John is the recipient of industry awards for his work as well as the prestigious West Virginia 2016 Governor's Award for the Arts and the AAFWV (American Advertising Federation West Virginia) Chapter's Lifetime Achievement Award.
He has received countless accolades from numerous clients for his ability to creatively enhance their brands and helping to deliver unparalleled results.
John has worked on the following projects included in the firm's references:
Metropolitan Washington Airports Authority
Emory University
Aerojet Rocketdyne
The Health Plan
West Virginia Symphony
Greater Kanawha Valley Foundation
CAMC Foundation
Mountwest Community and Technical College
BridgeValley Community and Technical College
West Virginia University
University of Charleston
Fairmont State University
Mercy Medical Center
Yeager Airport
Greenbrier Valley Brewing Company
SIPC-Securities Investor Protection Corporation
The Blanchette Rockefeller Neurosciences Institute
PhRMA
The World Bank
 ___________________________________________
WVU Marketing Communications Today is hosted by Michael Lynch from West Virginia University which is a program on the Funnel Radio Channel.