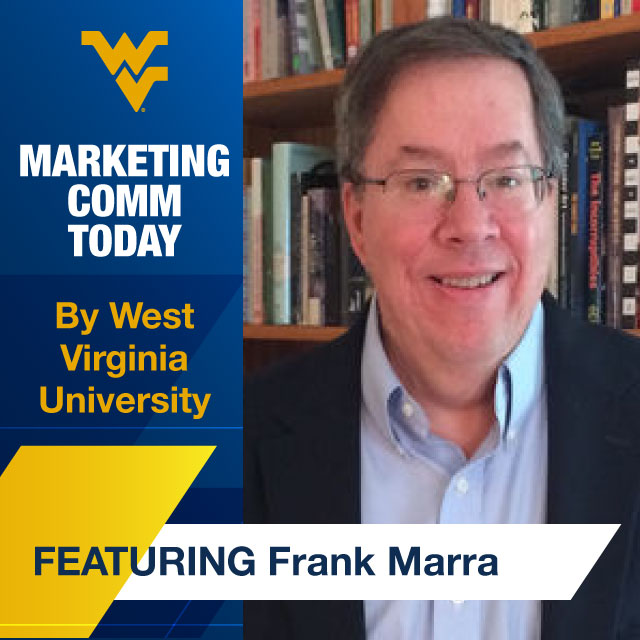 Today's guest on WVU Marketing Communications Today is Frank Marra. He and host, Matthew Cummings will be discussing the current state of the public relations field and the biggest challenges practitioners are facing, including ethics, legal issues, and crisis management. After the break, they will dive deeper into diversity in public relations, as well as how practitioners are now receiving the strategy and business expertise they need to be successful in the changing industry.
About Matthew's guest:
Frank Marra is a professor and practitioner in Rochester, New York. He teaches IMC 631, Crisis Communication.
Marra worked and studied for five years with Dr. Jim Grunig, the world's leading scholar in public relations. He is a specialist in crisis management and developed the first theory of crisis public relations.
Marra has taught at Rochester Institute of Technology, the University of Maryland, Ithaca College, Cornell University and the Simon School of Business at the University of Rochester. He was also a member of the faculty at the Curtin University Business School in Perth, Western Australia, and at Zayed University in the United Arab Emirates.
Marra has worked as a public relations practitioner, as well as at radio and television stations, including the top-rated talk radio station in Washington, D.C.
Marra is a former president of the Public Relations Society of America's Finger Lakes Chapter and co-chaired PRSA's MBA Project for two-years.
Marra earned his bachelor's degree from Carleton University (Ottawa, Ontario), master's degree from the University of Florida and doctorate from the University of Maryland.