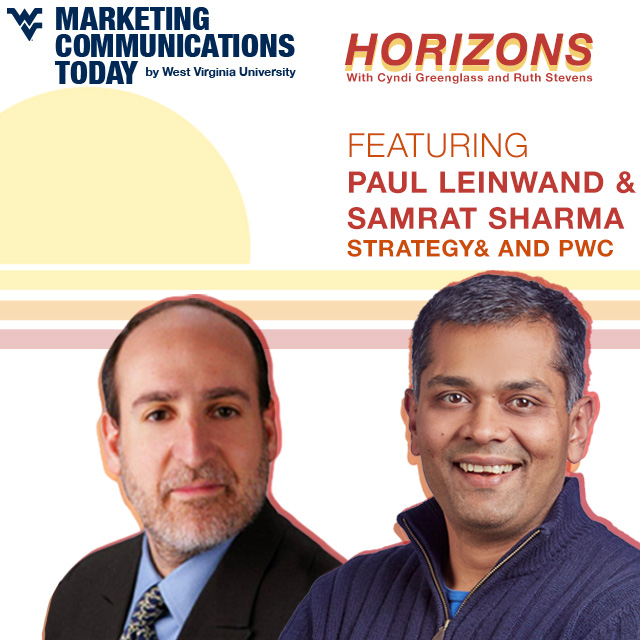 During the pandemic, we've all been watching with horror as stores close and shopping behavior has turned upside down. Amazon's sales are up 40% in the last 12 months. What's the future of retail, we have to ask? Join us for an engaging discussion with Paul Leinwand and Samrat Sharma from PriceWaterhouseCoopers's as they discuss the future of consumer markets and where the consumer shopping experience is headed. Paul Leinwand is global director of the Strategy& unit of PwC based in Chicago and teaches strategy and management as an adjunct at Kellogg Graduate School of Business. Samrat Sharma also works at Strategy& and has an MBA from Carnegie Mellon.
About our Guests:
Paul Leinwand
Paul Leinwand is a thought leader on strategy, growth, and capability building for Strategy&, PwC's strategy consulting group. Based in Chicago, he is a principal with PwC U.S. Paul advises clients on the topic of strategy, growth, and capability building, with a focus on the consumer product and retail sectors.
He is the co-author of three books, Strategy That Works: How Winning Companies Close the Strategy-to-Execution Gap (Harvard Business Review Press, 2016), The Essential Advantage: How to Win with a Capabilities-Driven Strategy (Harvard Business Review Press, 2010) and Cut Costs and Grow Stronger (Harvard Business Review Press, 2009), as well as several articles in the Harvard Business Review and strategy+business.
Paul earned an MBA with Distinction from Northwestern University's Kellogg Graduate School of Management and a Bachelor of Arts in Political Science from Washington University. He currently teaches at Kellogg as an Adjunct Professor of Strategy.
Samrat Sharma
Samrat Sharma is the US Enterprise Strategy & Growth Leader with Strategy& and PwC and the global leader of CMO Advisory, where he specializes in developing new business models to drive growth and reduce costs for CPG clients. He has roughly 20 years of consulting and industry experience in North America and emerging markets.
His wealth of expertise includes growth strategy, innovation and business transformation, go-to-market capabilities development such as marketing, revenue management, customer/channel management, and digital transformation with a focus on commerce, data & analytics.
Samrat has been featured in publications like Harvard Business Review and Strategy+Business. He earned his Bachelors in Commerce from the University of Delhi, and his MBA from Carnegie Mellon University.
---
WVU Marketing Communications Today: Horizons is presented by the West Virginia University Reed College of Media, which offers renowned online master's degree programs in Marketing Communications.