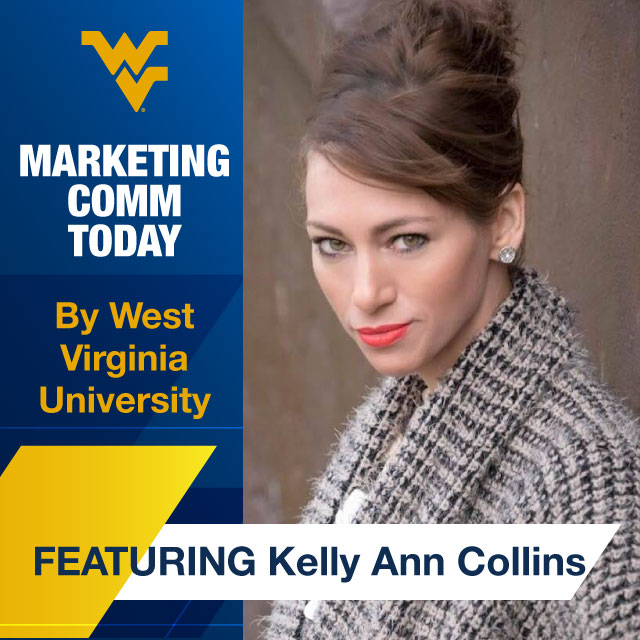 Today's guest on WVU Marketing Communications Today is Kelly Ann Collins, CEO, and founder of Vult Lab, a digital marketing agency that focuses on social media management for companies, orgs and thought leaders -- and campaigns for social good. She and host, Michael Lynch, will be diving into cause marketing for corporations, the issues nonprofits currently face, and how to use influencers to expand reach.
About our guest:
Kelly Ann Collins is a WVU alumnus and has also completed programs at MIT and Cornell. She was the managing editor of The Daily Athenaeum, starting out her career as a reporter, and then editor.
As a journalist, Kelly Ann Collins made the move from print to digital when she helped launch USAToday.com. Then, she ventured off into the land of tech PR during the dotcom boom (and crash). During that time she met tech giants and co-founded a VC platform.
She also became a blogging pioneer as, some argue, the first person to put her life online in blog and cam form. When Blogger launched she became one of its first bloggers—which meant fun perks, like her choice of Gmail address for being a Blogger / Google influencer (except the word "influencer" didn't exist back then).
Later, she took the skills gained from her endeavors to help launch and grow 50 editorial and social products at AOL co-founder Steve Case's Revolution. Then, in 2008, she founded a pop politics blog with a focus on the 2012 presidential election that gained 3 million readers in one year. It was the first of its kind to get White House credentials and invites to events with world leaders, and personalities, like LMFAO and Clint Eastwood.
Now, she's using her knowledge at Vult Lab to create social tools, launch initiatives, and startups, and build robust communities for her clients.
Kelly Ann and her team members have been working within the USA (and beyond) on projects involving brands you know and love—including Easter Seals, OZY, Conservation International, Starbucks, Results for Development, HP, Adobe, Disneynature, Jamba Juice, Prince William's Royal Foundation, the Washington Capitals, The Washington Times, and more.
Currently, Vult Lab's partners and clients work in 50+ countries around the globe.
___________________________________________
WVU Marketing Communications Today is hosted by Michael Lynch from West Virginia University which is a program on the Funnel Radio Channel.